Today I'm sharing a fun Halloween popcorn treat box printable you can use for your Halloween festivities. I was trying to think of something new and fun for Halloween.
Halloween Popcorn Treat Box Printable
I'm not ready to pull out the Halloween decor, I'm still in denial that summer is over (and has been for months!). Then I saw a beautiful mason jar wreath designed by Jen from Tatertots and Jello and fell in love with the color combination. This project should take you less than 15 minutes… seriously, just print, cut, glue and fill!
Today's project is part of the Craft Lightening Halloween Blog Hop. You'll definitely find all kinds of fun Halloween inspired projects to keep you busy, help you decorate your home and party like a monster! Hop on over and see what other creative ideas you can find. You'll want to follow both ladies hosting this event too – Angie over at The Country Chic Cottage and Caroline at 30 Minute Crafts – these girls ROCK the craft fun!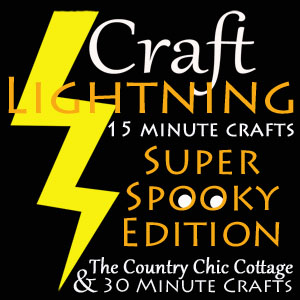 How to Make this Halloween Popcorn Treat Box
You can use this cute, mini Halloween popcorn box for your own projects. Just print and assemble the box yourself. Then fill it with whatever yummy treats you want and hand it over to your favorite ghouls and goblins. I think it would be a lot of fun to make caramel popcorn balls, wrap them up in pretty Halloween orange paper and put them in the popcorn boxes to give as little gifts.
Materials:
Halloween popcorn treat box printable (see below).
Scissors
Glue or tape
Instructions:
Download, print and cut out the popcorn printable.
Fold all the edges.
Glue edges in place.
At the bottom you might want to add a small piece of tape or glue the flaps in place if you plan on having kids handle the boxes, just so they con't come apart.
Fill with your favorite Halloween goodies.
Download the free Halloween printable:
Get this Free File
Halloween Popcorn Treat Box
2.17 MB | 4600 Downloads
Later I'll show you how to make carmel popcorn without the carmel – you're right, then it's not really carmel popcorn, it's probably something else, which it is, but you'll love it! For now, try this yummy Halloween snack mix, it would be a perfect treat for these boxes.
I'd love to hear if you make this project – tell me what you think, what did you fill the box with?
More Halloween printables you might like: