Some of the best creative projects are those that are quick and easy. Today I'm participating in another great Craft Lightening Event. Each designer is featuring a project that takes 15 minutes or less (excluding dry time). So, I decided to share a fun, quick way to decorate Easter eggs would be a great project to share. This is something you can do with the kids or on your own. If you have more time and really want to add your own personal touch, you can draw on or paint these paper mache eggs before you add the washit tape and twine.
Time:
Each egg takes about 5 minutes. I found I spend more time trying to decide which tape and twine to use than it took me to wrap the eggs.
Materials you need:
Paper mache eggs
Washi tape in a variety of colors and patterns
Twine in a variety of colors
Thanks to Consumer Crafts who provided these materials for me to try!
Make decorated Easter eggs with Washi Tape and Twine
Wrap washi tape around the middle of the paper mache egg. Press firmly to ensure the tape adheres securely. Overlap the edges so the tape doesn't peal. Tip: I wrap the eggs and then tear tape off the roll instead of trying to measure and tear before wrapping.
Wrap twine around the egg on top of the washi tape. Tie into a knot or a bow and trim. Tip: to ensure bows stay tied, add a dot of glue using a toothpick to the knot and allow to dry.
Mix and match the washi tape and twine colors to create a whole pile of different eggs. If you have really young kids that would like to help but don't yet have the fine motor skills to work this project on their own, work together. You hold the tape to the egg while your child helps you press into place. As always add your own sparkle with glitter or stickers or other embellishments you'd like to include on your Easter eggs. This is a craft project you would apply to real eggs or blown eggs if you'd like too!
I also have a quick tutorial showing how to decorate plastic Easter eggs with decorative tape with younger kids at Projects for Preschoolers.
Find more Craft Lightening projects: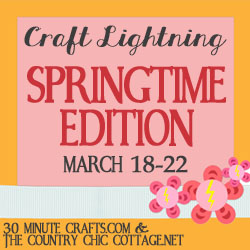 Special thanks to
30 Minute Crafts
and
The Country Chic Cottage
for the creative inspiration today!