Make fun Valentines using glow sticks. Oh yes, I love glow sticks all year round. I don't know why I'm so fascinated by them, but I always have a pile somewhere in the house. I've made this cute Valentine printable for you to use, just in time for the next addition of Craft Lightning with Angie and Carolina. You can cut out the different components on the printable to mix and match and use in a variety of ways. I'll show you how…
First you need the printable. It's one page with hearts and banners and arrow accessories. You can cut out the hearts and use them by themselves or make a fancy Valentine with a heart, a banner that says "You Make My Heart Glow" and a glow stick arrow shooting through it. Do whatever you like!
If you're in a hurry, the quickest Valentine to make is the heart on a glow stick. Just cut out a heart, tape it on to a glow stick and for extra fun you can cut out a banner and glue it on the front of the heart.
Materials you Need:
You Make My Heart Glow Valentine Printable
[wpdm_file id=52]
Printer and paper or card stock
Scissors
Hole punch
Tape
Glue
Download the printable Valentines:
[wpdm_file id=52]
Make Valentines that will Make Their Heart Glow
Cut out a heart. Punch 2 holes about 1″ apart in the center of the heart. Insert glow stick through holes.
Cut out the front and back arrow accessories. Tape each piece of the arrow on to the front and back ends of the glow stock.
Cut out a message banner. Glue on to center of heart.
Optionally, you can also write your own message on the hearts. Add a little glitter or personalize however you like.
You'll have a blast making these cute little heart and arrow glow stick valentines and the kids will love them! If you need help finding glow sticks, check out your local Dollar Tree or Amazon always has glow sticks in stock.
[wpdm_file id=52]
Hop on over to Angie's site to find more Valentine Craft Lightning goodness!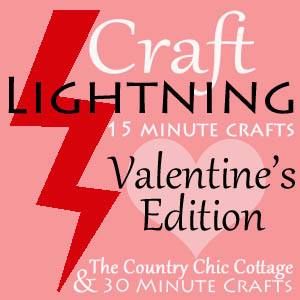 I have more printable Valentines and Valentine projects to share with you. Take a look at the Candy Heart Valentine kit, the printable Valentine coupon book and