Make your own Halloween Subway art style decor with this free Halloween printable and a little creativity. I used an old wooden tray that I decoupaged with Mod Podge, but you can use foamboard, a piece of wood or just frame the art as is. I also used a bat shape cut out that I designed to complete this Halloween decor. Use this printable Halloween art for a variety of things, today I'll show you how I made this decoupaged wall art piece. You'll find the download link for the printable below.
Today's project is also a part of the Craft Lightning Halloween series. So if you're looking to make Halloween decor in 15 minutes or less, this project will fit the bill! It's a super quick project if you simply apply the subway art to a black background piece or frame it. You can even cut out the bat and add it to your framed art and call it finished.
If you'd like a bit more detailed piece, try decoupage with the printable paper background pattern I've included and Mod Podge. I love to decoupage, which does take a little more time, especially if you're new to the process. So plan ahead if you'd like to make the full blown decoupaged subway art project. About 60 minutes start to finish.
Halloween Subway Art
Materials you need:
Printable Halloween Subway art by Jen Goode
Printable Bat designed by Jen Goode
Mod Podge
Paint brush
Background piece – wood, cardboard, etc.
Scissors
To make this Halloween subway art:
Print out the subway art, the bat art and the additional subway art background papers. If you want to conserve your black printer ink, either use preprinted black paper for your background, paint, or find a black background already available.
Cut out the subway art rectangle and the bat shape. I left a tiny bit of white showing around the bat so it would stand out better. Tear pieces of the black background paper.
Cover the box you are using with Mod Podge. Place pieces of background paper on the coated surface. Use Mod Podge and your paint brush to smooth down the paper, adhere the edges and coat it. This is called decoupage. Continuing covering the box until all sides are covered with the black paper.
Coat the surface again with Mod Podge if the surface is dry. Place the subway art on the surface and brush Mod Podge over it. Brush until all edges are sealed. If you use a hatch mark stroke, the finished pieces will look like it has a bit of a painted texture.
Allow to dry.
Add eyelet hooks at the top of the piece, tie a ribbon. Hang and enjoy.
Download the Free Halloween Subway Art Printables
Get this Free File
Halloween Subway Art
1.55 MB | 879 Downloads
Get this Free File
Black Plaid Background Paper
2.38 MB | 627 Downloads
Don't Forget: Click here to grab a copy of the Bat shape printable
You can use this Halloween subway art printable to create Halloween decor that you can use for years. Print it out smaller to make cards or print and frame for a super quick Halloween decor piece. Whatever you do, I hope you enjoy it! I'd love to hear what you create!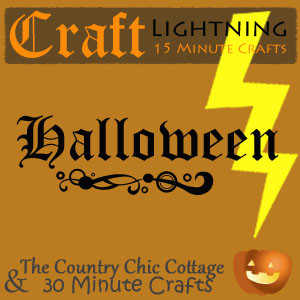 For more super quick Halloween DIY ideas, check out today's Craft Lightening projects, click below: