Last weekend I hosted a birthday party for my daughter. We had a pink and black dress up dance party theme with all kinds of sparkly fun. The girls made their own necklaces and bracelets and then sang along and dance to tons of Taylor Swift. Being the crafty creatives that we both are, we made some of our own decorations and party favors. We made some great quick and easy projects to add our own personal touch to the party and save a few bucks. Along with party necklaces and feather boas, I made cute headbands the girls could wear and keep as their party favors. Today I'll show you how to make these party headbands as part of this month's Craft Lightning event hosted by 30 Minute Crafts and The Country Chic Cottage.
I bought plain headbands from the Dollar tree (6 for $1) and decorated each using decorative Duck Tape and colored tulle (that netted stuff you can use to make tutus). So, each headband cost about $0.50 – bonus! This works with both the fabric and plastic headbands, so use whichever you prefer. I used tulle that comes on a roll (about $4 at Hobby Lobby) so it's only about 6″ wide. If you buy it by the yard like fabric, you'll want to cut it down to the 5-6″ wide before you can cut your strips to make the bows.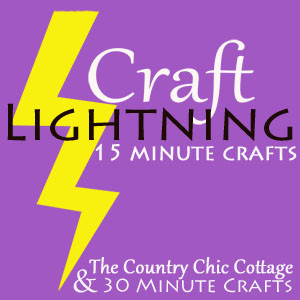 Let's get crafting! This is a super fast project and your kids can help too. For little hands, have them help by handing you the tape or cutting tulle, there's not much to this one so it goes by super fast. Duck tape is really sticky (which we LOVE), but can sometimes difficult for kids to maneuver with this project.
Materials:
Plain headbands
Decorative Duck Tape
Tulle
Scissors
Those cute pink scissors? Why yes, they are Fiskars kid's scissors, Love them!
How to make your own pretty party headband:
Cut a strip of Duck Tape that is about 4″ long. Cut in half long-wise so you end up with two 5″ strips of tape. Set aside.
Cut a piece of tulle about 2.5′ long. Fold it over until you have a layered piece of tulle that is about 6″ long.
Pinch the middle of the tulle and hold in place where you want your bow on the headband.
Wrap Duck tape around the middle of the tulle (where you were pinching) to create a bow with the tulle and adhere it to the headband.
Voila!
That's about a 3 minute project, so in 15 minutes you should be able to make about 4 of these cuties, perfect for party favors!
For more fun and FAST project ideas, take at look at the other projects happening this week with the Craft Lightning event!
You can get extra creative and add ribbon, glitter or every gems… whatever you like! We also made our own sparkly "disco style" balls for decoration and I used wrapping paper on top of plastic table clothes to dress them up a bit. So much party fun can be made from super inexpensive supplies.
I'd love to hear how YOU get creative when you host your next party!